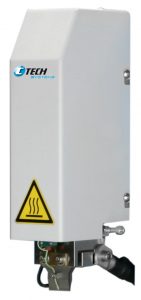 Bondhead
C-Tech Systems pneumatic bonding heads are designed for Hot Bar Reflow Soldering, ACF Laminating, Heat Seal Bonding and Heat Staking processes. Each bond head is adapted to serve a specific force range, to match the precise requirements these applications demand. The bond  head's extreme fast heating and cooling cycles reduce process cycle times. Using forced air-cooling after heating minimizes the total bonding process times even more. The rigid design ensures a stable environment for fine- pitch applications that need high accuracy. Because of its compact design  the head needs little space and can be integrated as process equipment in automated production line configurations. Using C-Tech Systems first- class bond heads will secure the quality, reliability and repeatability of the  production output and an accurate and constant process control.
CH-0100    Bond head low force       5 – 100 N 
CH-0250    Bond head mid force      20 – 250 N 
CH-0700    Bond head high force     50 – 700 N
For power and digital programming the bond head needs to be connected to a C-Flow power supply unit. The C-Flow also offers the  possibility to log all process parameters and results.
Contact C-Tech Systems
De Boelakkers 4, 5591 RA, Heeze
The Netherlands
+31 (0)6 - 28 92 4037
Mon to Sat - 9:00am to 6:00pm