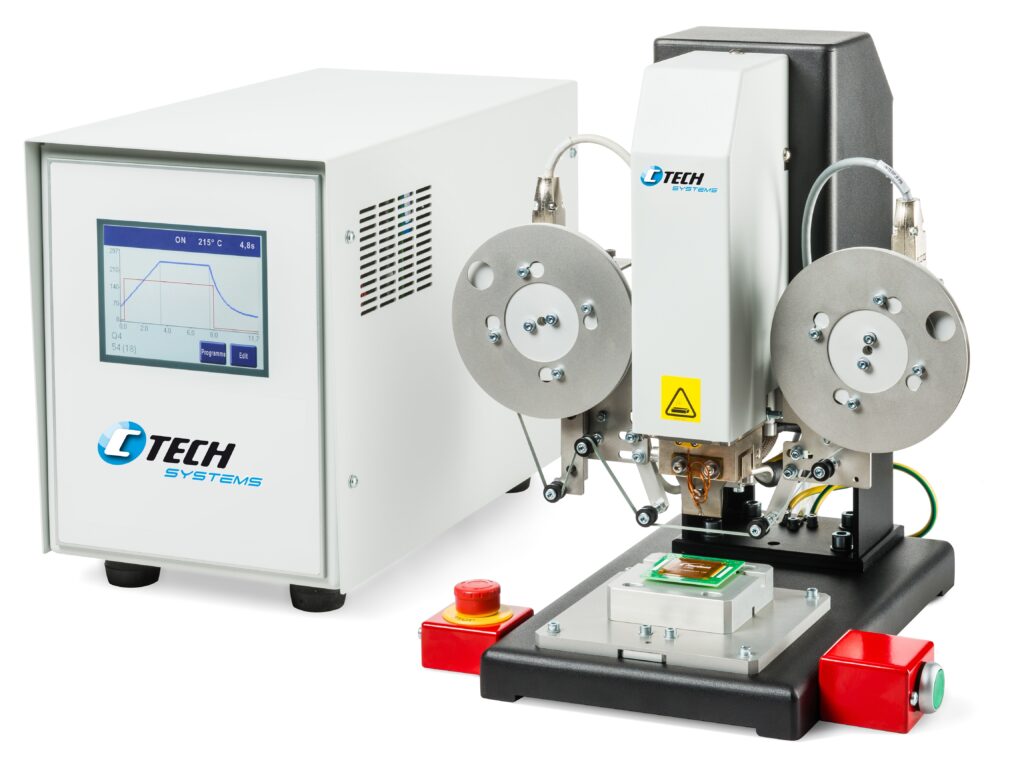 The C-Base Bonding/Soldering system is a combination of a C-Flow and a C-Drive
module and stands alone from other pulsed heat controllers with its unique integration of responsive temperature control and useful tools such as displacement monitoring and force control, all packaged into an easy to use, multi-language, touch screen interface. Whether you require a system for Heat-Seal Bonding, Reflow soldering, ACF Laminating, Heat-Staking, or other demanding application, the C-Flow can get the job done.
The C-Flow was designed for easy stand-alone applications and complete factory integration with RS-485, compact size, and external I/O. The C-Flow is a revolutionary concept in intelligent pulsed heat controllers. It is an industry first, by combining precision temperature control with micron level displacement monitoring and real time control of thermode pressure, providing its users with capabilities usually requiring multiple pieces of equipment.
The C-Drive is designed to deliver quality solder joints and Heat Seal bonds consistently. When coupled with a C- Flow Controller, the C-Drive shows its true colors. Temperature, Force, and Displacement Monitoring give instant feedback on what's occurring at the joint on a full color touch screen display, alarming the operators instantly if the temperature and displacement are out of specifications. The C-Drive series was engineered to deliver repeatable and accurate force for a wide range of applications. Four different models are available: extremely low forces for delicate applications to very high forces for the most challenging heat seal connectors.
Features
Most stiff frame construction
Smartest Hot Bar exchange design
Exchangeable product handling and process modules
Controller for time, temperature, force and joint penetration
User friendly touchscreen
Options
Soldering/Bonding Head Modules in different force ranges for optimal process adjustment
Interposer Module for soldering and bonding processes
Product Alignment for fine pitch applications
Quality control modules, e.g. automatic force control, joint penetration depth measurement, multiple thermocouples
Applications
Heat-Seal Bonding
Reflow Soldering
ACF Laminating
Heat Staking
Contact C-Tech Systems
De Boelakkers 4, 5591 RA, Heeze
The Netherlands
+31 (0)6 - 28 92 4037
Mon to Sat - 9:00am to 6:00pm